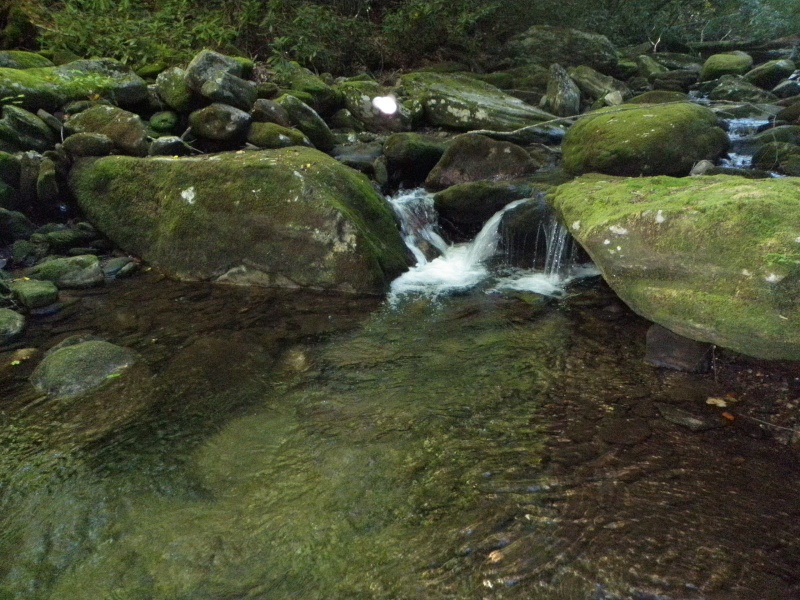 Hit some bluelines today with my son Andrew (aka Roll Cast). We had some pretty tough fishing as we picked a tough stream with a lot of rock climbing. My 42 year old knees are barking as I write. As this was our second time going after wild trout, we had a tough day. We each got a few strikes but nothing more. Andrew did manage to hook one for a few seconds, but he was excited because it came on the green weenie with hackles that he tied himself.
We did see several pools with trout. I had a pool with nice wild bow, that gave me the "headturn" on a extended inchworm. We threw EHC's, inchworms, greenie weenies, ants, beetles, prince nymphs, copper johns, and rainbow warriors to no avail. By no means are we discouraged and can't wait to get back out there. Wild trout fishing is so much different than going for stockers, so we will have to learn to change up our methods.
We did manage to get in some great scenery and enjoyed temps of 50's in the AM and 60's in the PM. All in all, can't complain. Attached are some of the pools we were combatting.

hookedontrout

Member




Posts

: 80


Join date

: 2010-05-26


Location

: Davidson



What size tippet are you guys using? Current clear, low waters levels can make catching pretty tough right now. I'd try at least 6x, but I had to go to 7x last weekend to draw more strikes. If you're seeing fish in the pools, there's a good chance they've seen you too. Keep your clothing colors pretty muted. Darker greens, olive drab, shades of grey, or even camo can help some. Stay out of the water as much as possible too. Ripples across pools and vibrations can spook them.

That's great about the hackled green weenie! I was checking it out last night where he posted it in the tying contest section.
You have to love it! Fishless or fishful (if those are even words)! Wild trout fishing is addictive!

Those are some great looking pools. It was the low water that resulted in a fishless trip. I'm sure of it. It's all because of the extremely low water. I guarantee you guys would catch fish come Spring. I've been skunked on the bluelines many times when the water gets this low. Those pools definitely have fish in them, but they fish are apparently being a little too secretive.

Like Mark said, if you're not producing any strikes or not bringing any fish to hand, downgrading to 6x-7x is a good idea. A lot of times wild fish aren't really leader shy. When it comes to low water though, they seem to strike the most on 6x tippet or smaller.
You may also want to try either a #16 or #18 beadhead nymph by itself or as a dropper under a stimulator or royal wulff.
I'm surprised the infamous Green Weenie didn't do much...

Thanks for all the tips. I was using 6x tippet and dressed in camo, so yesterday I was just a bad fisherman, but thanks for trying to make me feel better and blaming the low, clear water. We did spook a lot of trout by clomping around, and in one pool, I actually pulled up my line too quickly.

One question about rod length. We were using our 8.5 foot rods and often when casting upstream, our rods may have actually gone right over the trout or casted a shadow. Would using a shorter rod help? Any suggestions on length and weight? Thanks.

hookedontrout

Member




Posts

: 80


Join date

: 2010-05-26


Location

: Davidson



I built a 5' rod I like to use on really small creeks, but most of the time I'll use a 6'6" or 7'6" rod. Shadows across fish can spook them as well, but not sure how much a shorter rod would help. It would depend a lot on the sun's location and angle, to make it sound technical.

If water conditions remain like they are, I would probably go with nymphs on the next trip. They're a little less shy about striking those most of the time. Try fishing either really early in the morning or late in the afternoon when conditions aren't so bright. You may do a little better if you can fish during overcast conditions too.

One other tip would be to either make shorter casts where your fly line isn't landing on the water(basically mimicking tenkara style fly fishing). At times I'll also try to use an exposed rock to let the fly line land on, so that only the leader and tippet hit the water in your target area.

---
Permissions in this forum:
You
cannot
reply to topics in this forum