What knife or knives do you all carry when your out on the stream? And if you don't mind sharing what factors helped you decide?
Here you go Teach. This is the Gerber I carry with me all the time really. Couldn't tell you the exact model.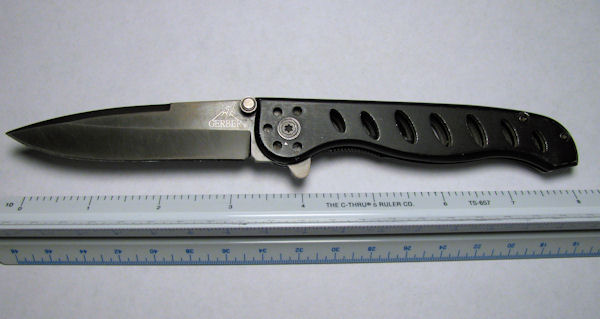 I was looking for something made of good stainless steel and the handle style is weight saving. It also has the clip on the back and I'll clip it so the knife is actually inside my pocket making it less likely to pop off and get lost. That also causes less alarm if I walk into store or something with it. Its big enough to do what I want it to without being too large.
I carry a multi tool every time I'm out on the water. The knife isn't as long as a fixed blade or a larger pocket knife/buck knife, but it comes in handy. In a survival situation (which can of course happen when you hike into the backcountry) a knife is a necessity.
MarkPTO like minds I guess but I carry that same knife

I also carry a Victora Knox Cybertool that was bought to fix pcs. Fixed more reels and boat gear than anything. It has a number of interchangeable bits.
I carry a Victor Knox helmsman's knife boating. Rope cutting blade and splicing needle (Marlin like spike)
Leatherman wave for a multi tool. Compact and tough for a full sized multi-tool.
I have always carried more than one knife. I guess it's OCD thing or something.
Teach, I do believe you're right, the Gerber is a great knife too. That's the only "tool" I carry really other than forceps. I suppose that could be underkill. It doesn't hurt to have a backup but I'm always looking for minimalism.
I carry a Swiss Army Knife. The one I carry was a freebie that my wife got from work. It is a real Victorinox so it was a good gift for me because my wife could have cared less. It is a basic model but I like having a few extra tools in my vest. I really need to add a multi-tool to my gear for that extra safety factor in a survival situation. I have also thought about getting a fixed blade knife but I figure that Rambo might be a little over kill on a trout stream. However, you never know when you might need to kill a bear or gut a camel and squeeze the water from its rumen. I do draw the line at sucking the vitreous humor from its eyeballs.
Buffalo96 - You certainly can't argue about how useful a Swiss Army knife or multi-tool can be. I've also thought about carrying a larger fixed blade knife mostly for defensive purposes, but I don't know if that would help much or not. You never know what or who you might run into out there. Plus, like you said, you never know when you might need to setup camp inside a camel.
I guess I came along watching MacGyver on TV. A Victora Knox Swiss Army knife has solved a lot of problems along the way few of which were serious. The Cyber Tool has several inter-changeable driver bits as well as all the important blades.


Similar topics
---
Permissions in this forum:
You
cannot
reply to topics in this forum