I am not sure how many of you all tie streamers? I tie several different patterns and variations of established patterns for both trout and warm water species.
What I was wondering is this 'How important are eyes on streamer patterns to you?'. Thought this might start some discussion. Would love to hear from the regular posters as well as some of you all that lurk
Excellent question...

I tie a lot of streamers. I put dumbbell eyes on some of my streamers, not so much for look, but mainly for weight. I think movement in a streamer is the the most important aspect though. I don't think it's a necessity at all. Just a preference.
I feel that eyes probably aren't one of the more critical parts of a streamer. Most of the time I don't use any, however I may put a dot on each side of the head with a Sharpie. I use adhesive eyes occasionally and then coat the fly's head with two part epoxy, which makes a very durable streamer.
I am not sure about streamer flies. To me it seems like most of their appeal is from their motion. I have been told that predatory fish key in on eyes. So I guess there is some merit in having an attractive eye in your streamer if it imitates bait fish. If you notice, a lot of manufacturers are putting eyes on bullet heads so maybe there is something to it.
I use to not put eyes on any streamers. Was tying Clouser minnows with just natural or solid colored eyes. Over time I started learning patterns that eyes were aesthetically as well as structural to the pattern. With no real scientific study just began to feel like the bite and hook up ratios were better.

A lot of high game fish go for the head. Largemouth bass tend to go for the head of a fly or lure. Redfish have the false eye spot from what I have been told to redirect predators.

I tend not to put eyes on woolly buggers (not a true streamer anyway), crayfish Clouser like flies, and about 1/2 my zonkers. Probably going to start doing more eyes on zonkers.


How big a part of your tying and fishing is streamers? I know several are just starting to tie.
That is a good point. Lots of creatures in the animal kingdom have fake eye spots to help cope with predators. There probably is something to that. Sometimes I think eyes on lures may be more of way of making the lures more attractive to the buyer.
I rarely use or tie streamers. I'll tie a few buggers every now and then. For trout I mostly use dries, terrestrials, and nymphs. I do have a crawfish pattern or two I like, but not sure I'd consider those streamers. The buggers are mostly for bass and panfish.
This is a little baitfish imitator I like to use for Crappie. Its not pretty, but it works really well, and of course it rides upside down from its appearance in the picture so it has a darker back and white underbelly.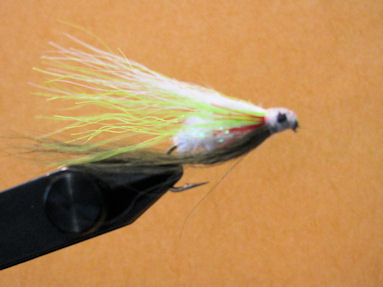 Tied With:
Chrystal Chenille
Olive, Chartruese, and White Bucktail
Red floss for the gills
Sharpie eyes or other type
Like Tyler, I only use eyes for weight. One of my most productive streamers is the Muddler Minnow. I have never seen a Muddler pattern with eyes. I like to fish a streamer when I can get a big swing through the current. Always seems to attract fish with that movement.

FireFly

Junior Member




Posts

: 40


Join date

: 2010-09-29


Location

: Matthews, N.C.



To the original poster. On flies in the 2-6 range I will generally use adhesive eyes, with a touch of goop in size 4mm-7mm. Not sure if its necessary, but the fly looks more complete. Especially bunny flies.

Cumberland Trout Bum

Junior Member




Posts

: 4


Join date

: 2010-10-02



Speaking of predators and eyes. When I went drum fishing at the beach in August we were using live Menhaden on a Carolina Rig. When you cast and let the bait sit there the Pinfish would attack the bait. Every time I would bring it back in to freshen my bait the eyes would be pecked out and the body would remain mostly in tact. The guide said that the Pinfish do that to make the bait fish blind and helpless before they ate it. Drum are not that cruel. They just gulp them whole.

All seemed to make sense.
---
Permissions in this forum:
You
cannot
reply to topics in this forum